rooftops of wrigley - chicago's wrigley rooftops
If you're a Chicago Cubs fan, you are probably already familiar with the Wrigley Rooftops, which are a series of rooftops in the immediate area of Wrigley Field where you can purchase all-inclusive entertainment packages that include stadium style bleacher seating, incredible bar areas and clubhouse ambiance, and all the food and drinks that you and your guests can eat! It's one of the most fun ways to do a group outing in Chicago and Wrigleyville, and it's surprisingly affordable and yet so luxurious.
There are sixteen rooftops in Chicago at the time of this writing, and each one has its own special perks and features that make it worthwhile. Some are classic while others are trendy. One requires private membership and has cheaper tickets, while others cost more for a one-time event but don't require any membership at all. When you're planning an event in Wrigleyville, and especially if you want an amazing view of a Chicago Cubs game, you've got to take all of these rooftops into consideration and choose the one that's best for you. On this website we'll serve up a lengthy review of each Wrigley rooftop so you can decide for yourself!
Believe it or not, the Wrigleyville rooftops have been a part of Cubs history since 1914. They used to just be traditional roofs with some folding chairs, and it didn't take much business away from Wrigley Field itself. In the 1980s the owners of the rooftops started charging admission and installing permanent seating, and needless to say, the Cubs weren't thrilled about this. They saw it as piracy, and there were even lawsuits in 2002 over it. That lead to a settlement where the rooftops agreed to pay 17% of their gross revenue to the Cubs, and in exchange they have received an official endorsement from the Cubs themselves. This has lead to even more safety improvements and inspections, and really incredible features are popping up now that the rooftops are officially endorsed by the Cubs.
The official endorsement has effectively expanded the seating area of the stadium to include the rooftops of Chicago, and it's a win-win situation for the local businesses and for the Cubs! It's the perfect party space for you too, and even for those who aren't Cubs fans at all, because the incredible rooftops and indoor clubhouse areas are so enjoyable for everyone even if they never pay a bit of attention to the game.
At most of the rooftops, the ticket packages are all-inclusive with no exceptions, meaning that you can't purchase just the space without the food and drinks. We see this as a bonus because everyone in your party is going to be hungry and thirsty, and it's great to have all-you-can-eat and all-you-can-drink buffet style and bar style service for them! Typically you'll see hamburgers, Chicago style hot dogs, and pizza on the menus, with some of the more upscale rooftops featuring really gourmet choices and upgradable menu items for certain events. There are multiple bars within these buildings, plus plenty of seating both indoors and out. There are often many HDTVs throughout the establishments and even outdoors for your entertainment! And sometimes there are private VIP suites within the building as well, available at an additional cost. These VIP areas will often include exclusive menus and even full espresso and coffee bars!
We know it's hard to choose a rooftop in Wrigleyville when they are all so fantastic, but we hope that our detailed reviews will help you to pick the one that is best for you. You can use the links going down the right hand side of this page to work your way through all the reviews, or click the links in the paragraphs above.
We also recommend that you take advantage of Party Bus Chicago's group travel services, because there is nothing more luxurious, and nothing more safe! Their professional chauffeurs will take care of the safe driving, so you don't have to worry about a designated driver or even bothering to get directions! You can travel with 16 to 30 of your closest friends in one vehicle, or rent more than one vehicle to transport even your largest parties! You can check out our review of Party Bus Chicago, view their website right here, or give them a call at 312.725.2871.
Let's go ahead and talk a bit about each of the rooftops that exist in Wrigleyville, and note that you can click on the names of the rooftops to read a full lengthy review of each one that will help you to decide which one is best for you!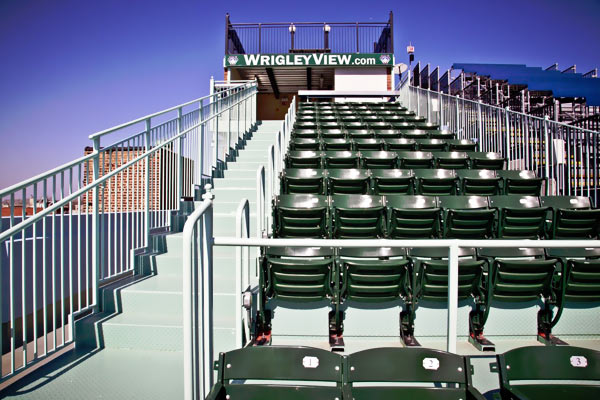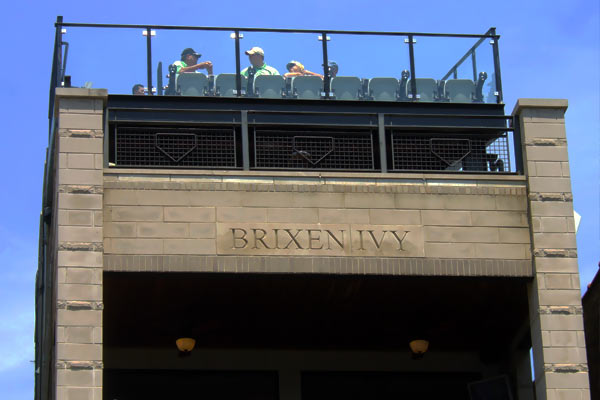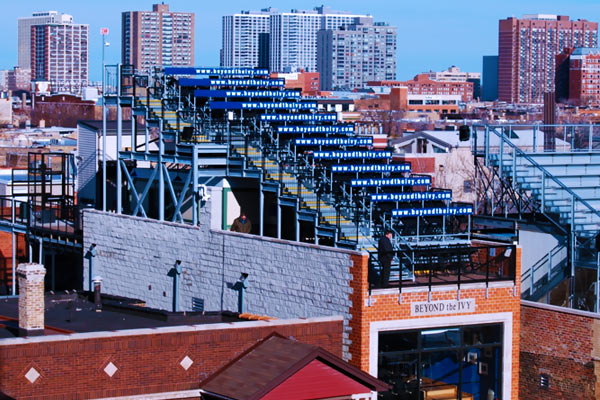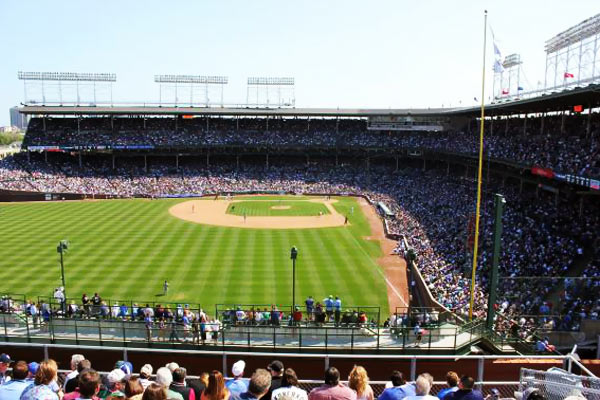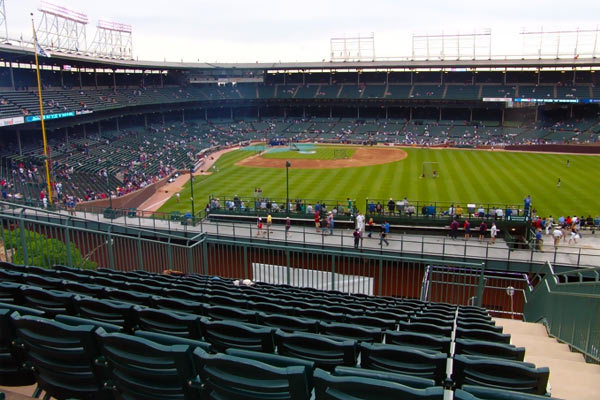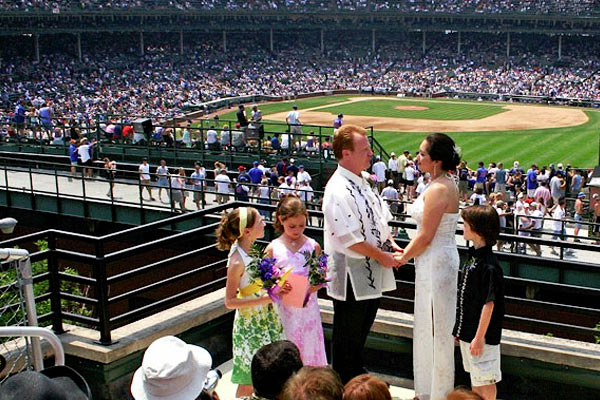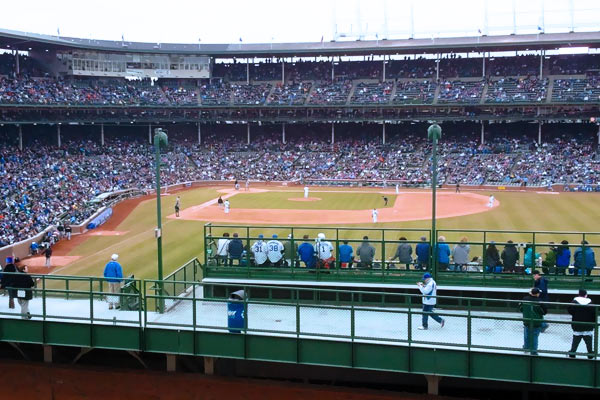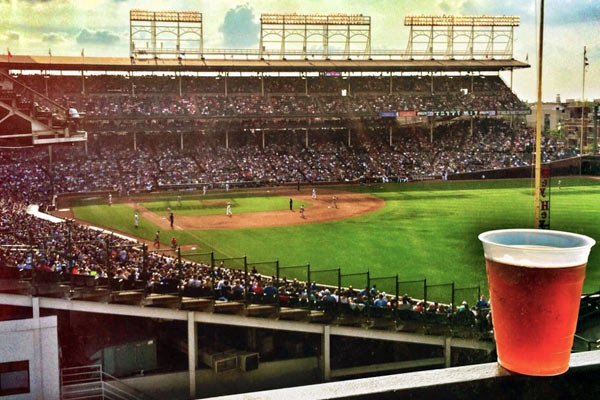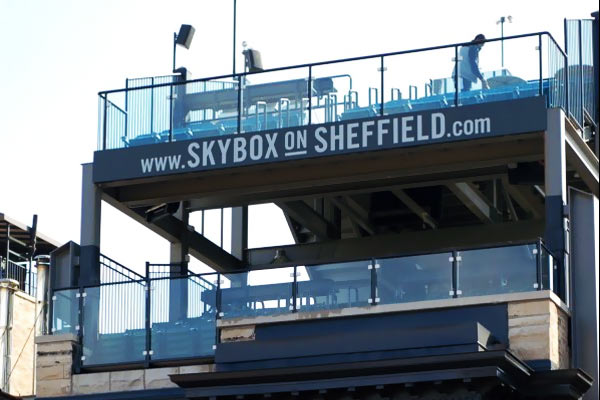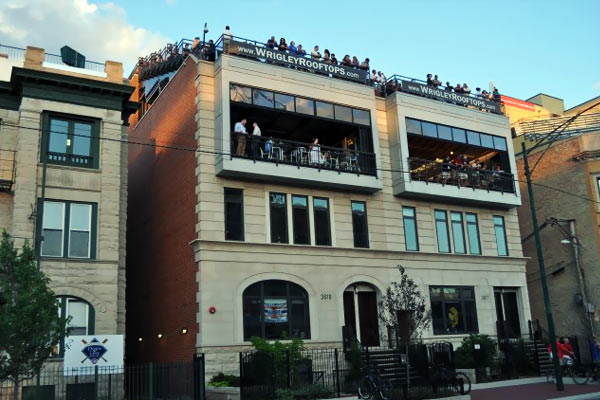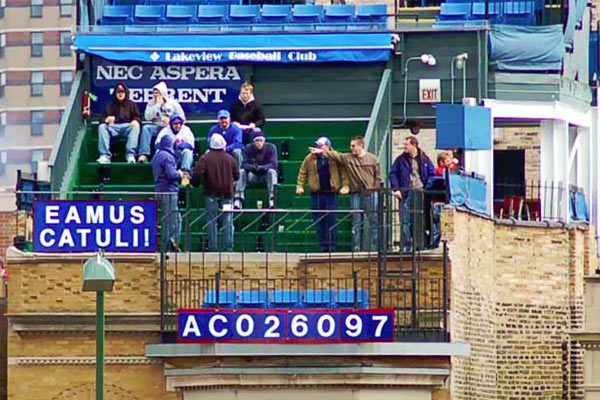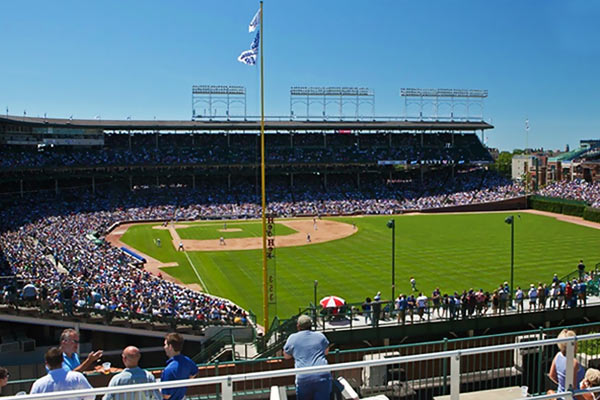 Wrigley Rooftop Choices
Wrigley View Rooftop is a big favorite of ours for fund raising events, plus your typical private parties and corporate events. This is the newest of all the rooftops, with an open air outdoor area, a cozy indoor bar, and a truly incredible view. This is the best view of home plate and that historic scoreboard, and it's a very popular rooftop for wedding proposals and for the ceremony itself! They can accommodate up to 200 people here.
Brixen Ivy is often referred to as Chicago's #1 Cubs Rooftop, and we agree. They were the first, and we still think they're the best. Their new renovations are really exciting, including new seating arrangements that are much more comfortable. The menu is really outstanding at this location, so if food is a top consideration for you, then you can rest assured knowing that this is beyond fantastic.
Beyond the Ivy at 1010 Waveland Avenue is the largest of the Beyond the Ivy locations, and is capable of holding as many as 100 guests, so it's ideal for your larger parties. Beyond the Ivy at 1038 Waveland Avenue has a much more modern and club-like feel, and is more intimate. Beyond the Ivy at 1048 Waveland Avenue is the one with the most classic vibe and all the retro decor that pays tribute to the good old days of the Cubs! You can't go wrong with any of their three rooftops, and we love the fact that each one is perfect for a certain type of personality!
3639 Wrigley Rooftop is now party of Wrigleyville Rooftops and was featured in Sporting News as Best of the Best for sports seating, and thanks to their spot in right center field, we love the view. There are over 40 HDTVs here including one in the floor, and plenty or private meeting space for their corporate customers.
Wrigleyville Rooftops also three other locations, at 1032 Waveland, 3609 Sheffield, and 3643 Sheffield in addition to 3639 Sheffield. The amenities are very consistent throughout, so the rooftop that you choose will very much have to do with availability. Each one has a great view that trumps any that you'll find within the stadium itself, and their professional catering is truly superb. We love the fact that they don't have any age requirements here, so your kids are welcome as long as they are supervised.
Murphy's Rooftop (at Murphy's Bleachers) holds a special place in our hearts because of the enormous contributions that Jim Murphy made to the Wrigleyville area. This is such a historic spot int he city, and you just can't beat the ambiance. It's more intimate than many rooftops, holding just 75 at most. The fact that Murphy's Bleachers bar is located right below is just another amazing bonus. You might even spot a celebrity or two while you're there!
Ivy League Baseball Club is the only five level rooftop in Wrigleyville, and it holds a total of three separate indoor lounges for you and your guests to enjoy. The extra wide seats on the rooftop show that they're serious about your comfort, and they serve sixteen different draft beers on all levels. You'll have access to 12,000 square feet of amazing space here, and there's a commercial elevator to get you wherever you need to go. Where other rooftops were built on buildings that weren't actually made for that purpose, this one was specifically built for this purpose, making it the safest and most comfortable of all the rooftops. Very highly recommended.
Sheffield Baseball Club feels like an upscale sports bar and has been voted Best Seats in teh House by USA Today. We love the fact that you can book space for groups as small as ten, or even reserve the entire rooftop if you like! They have 3,000 square feet of space on each of their three levels: Rooftop, Stadium Club, and All-Star Suite. You'll enjoy a truly premium menu in the All-Star Suite, including a full espresso and cappuccino bar!
Skybox on Sheffield is one of the original Wrigley rooftops, having first opened its doors in 1993. That classic feel has been recently converted into a trendy luxury rooftop, with a three course menu and many microbrews from Goose Island! They have a three-tiered roof deck, and indoor club house, and stadium seating that's so comfortable. Lots of plasma TVs, an elevator, and restrooms on each level for your comfort. We love the barbecue pulled pork sandwiches here, and the chipotle chicken patties are fantastic too!
Wrigley Field Rooftop Club has been voted Best Seats in the House by USA Today, and there is no question why! Since they're located right down the right field line, you have a view that you'll never forget. It's one of the closest to home plate, and even closer than many of the actual stadium seats! Now that's impressive. This rooftop hosts more corporate events than most other rooftops in the area, but it's great for all types of parties. This establishment has the most rooftop seating of any rooftop in Wrigleyville.
LakeView Baseball Club is the only private club on the list, requiring membership for you to purchase tickets. However, since the ticket prices are lower, you might consider this an enormous perk. Especially if you plan to hold more than one party each year! This is the oldest rooftop in Wrigleyville, and it's the one with that famous sign that reads Eamus Catuli, which translates to Go Cubs!
Down the Line Rooftop, or DTL, is one of the newest rooftops that has opened in Wrigleyville, and it's also one of the simplest and best. It's located down the first base line in right field, 448 feet from home plate. The view is amazing, and we recommend it both for games and concerts! There are two different levels with multiple bars, many large screen televisions for you to enjoy, and plenty of air conditioned space to escape the weather when you need it. This is our favorite when it comes to online ticket ordering too!